It's that age-old debate: should you outsource your business's security, or not?
We regularly work through the process of finding the best answer for our consultancy and security clients. The reality is that there's no one-size-fits-all. The most suitable model is different for every business; depending on their needs, capacity and the role security plays.
Here are some of the considerations to take into account:
Which models are available?
The question is usually 'in-house or outsourced?' – but it's not a binary choice between the two. There are other commonly used models in between. All have the potential to succeed if they fit the needs of the business, although there are benefits and drawbacks to each.
At one end of the scale is an entirely in-house provision. Security effectively functions as an independent department within the business, with a consistent team of directly employed officers. Plenty of businesses want this model, as it allows for direct control over a team of staff – but the management time and additional costs can quickly add up.
Next is an in-house security team, backed up with emergency support when required. This may be a planned model, or it may inadvertently become the model when a crisis hits. Generally, you can phone a security provider and have an officer(s) on site within a couple of hours.
This model does what's necessary when cover is critical and a business doesn't have the volume of staff or expertise to deal with an incident. Depending on the frequency of emergency cover needed, it may not be a viable long-term solution. The cover is often more expensive and of lower quality than the equivalent provision through other models, but it can work if a business needs infrequent additional support.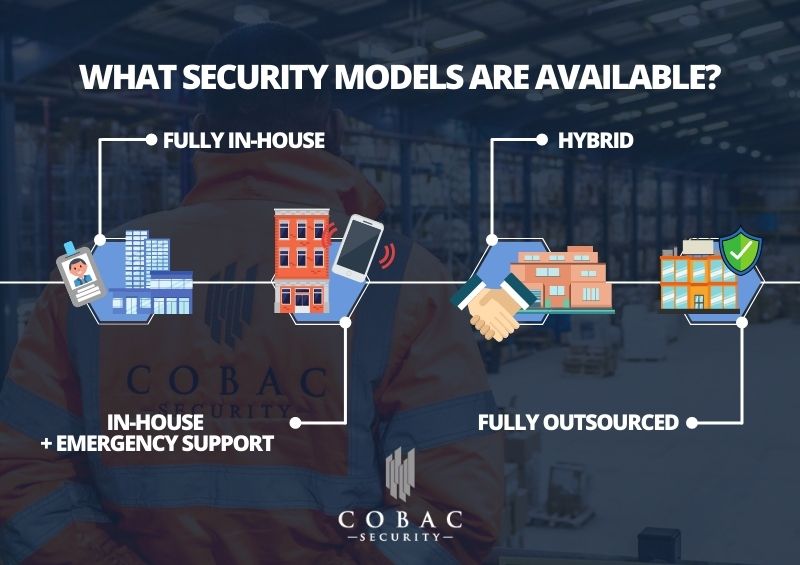 Hybrid models feature a core in-house team supported by outsourced officers – either on a day-to-day basis, or to supplement the team during periods of uplift. Hybrid models can successfully provide a high level of cover, but a clear management structure, communication and set responsibilities are necessary to avoid potential inefficiencies or confusion within the structure.
And at the other end of the spectrum is a fully outsourced security provision. It requires a great deal of trust to hand over responsibility for a business's security, and a bad experience can put a client off trying again. But with a clear understanding on both sides of the business needs – and a well-designed provision to meet these – this model can provide robust security and leave the client free to focus on their core business tasks.
Why choose a particular model?
There's a huge amount to take into consideration when choosing a security model, and for some businesses this shifts over time.
With a hybrid model, some clients feel like they have greater ownership of the security and functions. That's perfectly understandable if they don't really know a company or have reservations about going into a new partnership if they haven't outsourced security before. Over the long term, there's an efficiency of essentially a singular team approach – it's the same person who will manage the team, the training's consistent, the role's consistent. But the client has to be very confident they've picked the right provider, so people see a benefit in hybrid models in the short term.
There's always a need to question the reasoning behind the choice of model. If you want to outsource, what are the reasons? Is it cost, coverage, expertise, flexibility? Can an outsourced company actually help with the individual need?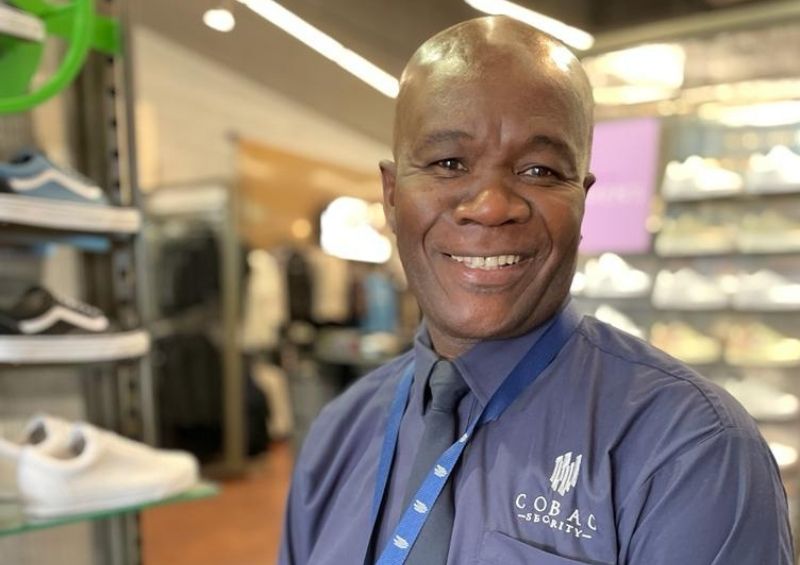 If you want to move in-house – is it because you really want to move in-house, or have you just got the wrong outsourced provider? Are you analysing cost on a like-for-like basis? Does it save the business money, or does it just appear that way on the individual budget line?
The capacity the business has to provide the service also needs to be taken into account. If the security roles are business critical and there are not sufficient staff numbers or locations to cluster, then some form of outsourcing or internal contingency planning will have to be in place. The question then becomes, at what level does outsourcing work best for the individual business – considering your needs, infrastructure, and budgets?
Be realistic in expectations across the different models. If specifically trained individuals are required, this is going to eb extremely difficult to achieve on a purely ad-hoc basis.
Whichever model you choose for your business, there need to be clear goals based on achievement, to ensure the provision is doing what it needs to do. Any of the models which involve two companies require good communication and a clear management structure, where everyone understands what their responsibilities are to make the model succeed.
Budgeting for the provision
Understanding which model is financially best for your business isn't always as clear-cut as it seems. Depending how your internal costs are allocated, finding a like-for-like comparison may involve calculating costs from a number of internal departments. Outsourced security comes with the advantage of fixing all the costs below into an hourly charge rate, typically for a small percentage increase. The client is protected from overspend from variable employment costs such as churn rates, absence & training. Objective contractual SLA's can also be put in place to ensure performance remains at the required standards.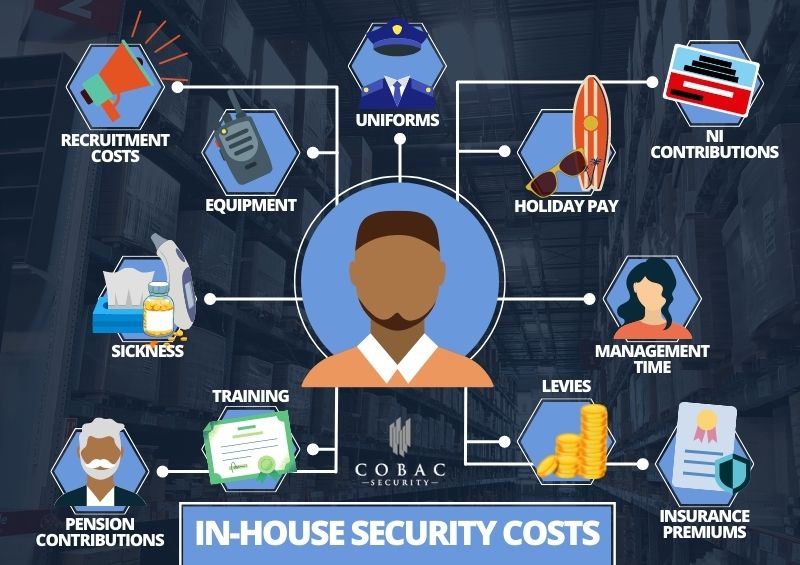 For in-house, the following costs needs to be taken into account along with an officer's salary:
NI contributions
Holiday pay
Sickness
Pension contributions
Training – can it be provided to the desired standard in-house? Or do costs for an external training provider or course need to be factored in?
Levies
Recruitment costs – including advertising and staff hours for interviewing and vetting candidates
Management time
Uniforms
Equipment
Insurance premiums – in-house security comes with liability should anything go wrong, which can heavily impact on premiums.
There need to be additional staff available to cover sickness, holiday and churn. How big this pool needs to be will depend on the structure of the roles and whether they're business critical. Is it viable to provide this pool of staff in-house – or should you use a regular team of outsourced staff to help meet demand? How much flexibility is needed – do you need more security for seasonal uplifts, incidents or regular events?
The right infrastructure
Alongside budgeting for a suitable level of cover, the capacity of each business to provide the necessary support for in-house cover needs to be considered. This can include questions such as:
How quickly can you recruit? If the roles are critical – such as in logistics – a rapid recruitment process will be necessary to maintain the required cover.
Can you provide a 24 hour response? Will this be via a control room, or a dedicated on-call team? There needs to be a reliable system to monitor incidents and activity, and a process for escalation.
What HR support is required? Do you need TUPE transfers, how much work is involved in preparing staff contracts, disciplinary and redundancy procedures, occupational health assessments etc.
Are there enough staff with the time and ability to manage a team? Working in a fairly condense geographical area, we find that one manager can effectively cover around 50 staff.
Do you have the internal expertise required? Knowledge in loss prevention, procedures and management of incidents needs to be kept up to date.
Is there an ability to train or license staff? If this can't be delivered in-house, what external provisions need to be in place to keep your team's skills up to date?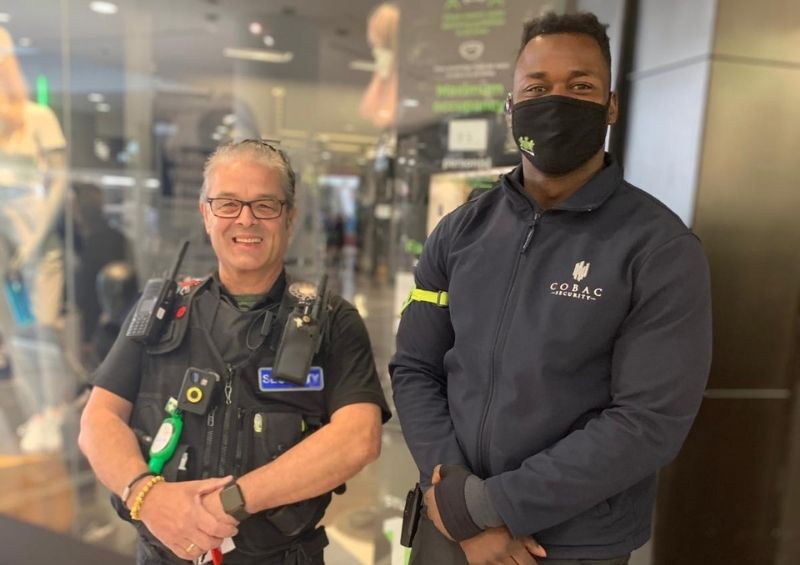 The 'in-house or outsourced?' question over-simplifies the complexities behind the decisions each business needs to make about security. Many factors feed into the risks and requirements for each business – not only what's happening internally, but also what's going on in the surrounding local area.
Each business has unique needs, different capabilities, capacities and budgets to work with, which will all impact on the decision and the final provision put in place. Finding the right solution for each business means looking past often long-held beliefs of whether in-house or outsourced security is the better choice.
Cobac Security provide security personnel services and consultancy to businesses across the UK. Drawing on extensive experience in the sector, Cobac focuses on finding the best staff for each role and equipping them with the technology required to provide a highly effective, data-driven approach. For more information, call +44 (0)1332 948320.