When correctly deployed, security officers can be an incredibly effective way of protecting your businesses from crime. The role undertaken by these specialist officers can vary depending on the specific risk and threats of your business location, but here's just a few ways Cobac's teams have helped businesses like yours:
Providing an effective deterrent against crime. Simply the presence of an immediately recognisable, professional security officer can reduce the level of crime in a given location – leading to a safer environment for employees, customers and guests.
Protecting staff in high-risk locations. Our security officers are highly trained to recognise the initial signs of an escalating situation, deal swiftly with any incidents and provide essential support and reassurance to staff in high-risk locations.
Reducing losses to theft. Theft has a significant impact on your bottom line. Cobac's security teams are there to monitor for signs of crime, quickly intervene and recover your stock.
Keeping your business safe. At Cobac Security, we go above and beyond with how our staff look out for your business. Our officers actively seek out ways they can help keep your business premises, staff and customers safe – such as checking fire exits are kept clear and reporting housekeeping issues affecting the security of your business.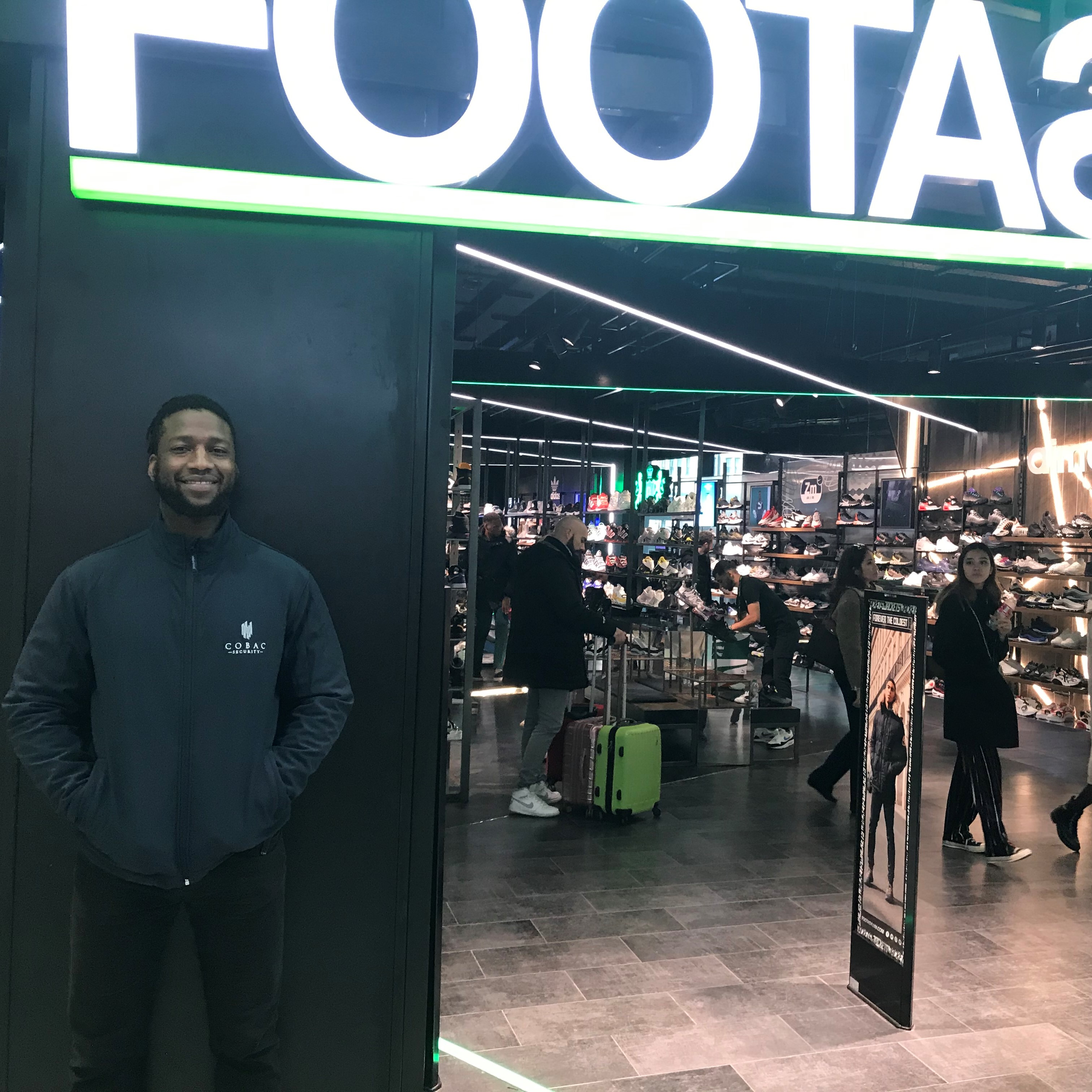 OUR SECTORS
Our experienced security teams protect businesses across a range of sectors. Cobac are a nationwide provider of reliable, professional security officers for businesses. Built on the extensive experience of our senior management team, Cobac was formed from the ground up with an emphasis on developing a well-trained, extensively supported team of security personnel ready to provide exceptional security protection to businesses like yours.
We'll examine the particular risks and challenges facing your business and develop a bespoke package to meet your needs – whether that's using officers fixed at a particular premises or more flexible resourcing over a number of locations.
Our in-depth recruitment process ensures that the security team protecting your business is staffed with the presence, skills and expertise to match the requirements of your location.
If you're looking for highly effective, professional security services, give us a call on +44 (0)1332 948320 to discuss how Cobac Security can protect your business.
WHY WE'RE DIFFERENT:
Personalised recruitment. At Cobac Security, we go well beyond a basic recruitment process of finding the right number of officers for the right location.
For each client we work with, a member of our management team will spend time getting to know your business and location, examining the particular risks and requirements involved and analysing the correct approach for you.
We then carefully source and select the best officers for the job – looking for those with the presence, personality and skills required to be the right fit for your business.
Our robust recruitment procedures place highly suited personnel into locations where they can provide real value to businesses. Cobac's officers become the local experts for the locations they're working in – integrating and collaborating with in-house teams to ensure an exceptional security provision for your business.
Effective, meaningful management visits. Unlike other providers, our management visits aren't simply an information collection exercise. A member of our management team will make regular visits to officers and business locations, seeking to continually develop the officers' understanding of the location and the effectiveness of your security provision.
With many years of experience, Cobac's senior management team can analyse the risks particular to your business location and ensure your security provision is performing well to combat these to the required specification.
We're not a fan of tick box exercises, so we use these management visits as our opportunity to deliver continual training and professional development to the personnel protecting your business. Our aim is to ensure that every single visit gives a positive impact and allows us to deliver even more value to our clients. We not only aim to refresh and reinforce previous officer training, but also develop our team's understanding of your business and intervene quickly if necessary – ensuring we can deliver the first-class service you deserve.
Efficient use of technology. Our use of software provides live updates and access to important information about your business. This can include basic details like the time an officer arrived on site or their location throughout a shift – through to live incident reporting, lone worker support, daily reports and vital housekeeping observations about safety and security in your business.
Our officers are trained to deliver regular, highly significant reporting to your business – whether that's an incident of violence against your staff, an attempted theft or a fire door that's been repeatedly blocked. The amount of detail we collect is higher than that of other competitors in the industry and provides vital information to keep your business safe.
To find out more about how we can help keep your business safe, get in touch via our contact form or call us on +44 (0)1332 948320